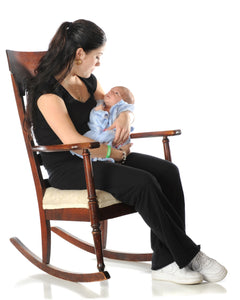 Children in foster care typically come from situations where they have been emotionally or physically neglected.  If children do not have a consistent primary caregiver that meets their needs during the first year of their lives they have a high probability of having "Attachment Disorders" as they develop. 
One way a foster parent can help abate this situation is to provide warm nurturing interactions upon placement of the baby or small child.  A rocking chair is the perfect place to snuggle, smile and make eye contact with a child!  This is why we want to provide as many rocking chairs to foster families as we can.
Every donation of $100 will buy a new rocking chair for a foster family.  Please consider helping our parents help the children!