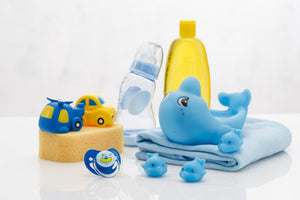 Foster parents do not get baby showers.  They get a call from an agency that says we have a baby/child that was just removed and needs a home right now.  Can you take them?  Maybe you have a day or two to get your house ready and to buy the necessary items the child will need upon placement...maybe not.  Some agencies have some items that they can give you to get started but most don't.  The critical items that a child needs are all bought by the foster family without any monetary assistance from anyone.  These costs are not reimbursed.
We have developed a "Baby Shower in a Box" to help foster parents with some items that you don't usually have in your house but you will definitely need.  We currently have 2 boxes available - based on age group.  Once for babies and one for children.  Each box will contain age specific items such as thermometers, infant Motrin, diapers, wipes, pacifiers and bibs for babies and socks, underwear, pj's, toothbrush, toothpaste for older kids, just to name a few items.
Your donation of $75 will provide one "Baby Shower in a Box" for one Foster Family in need. Please consider helping the babies!